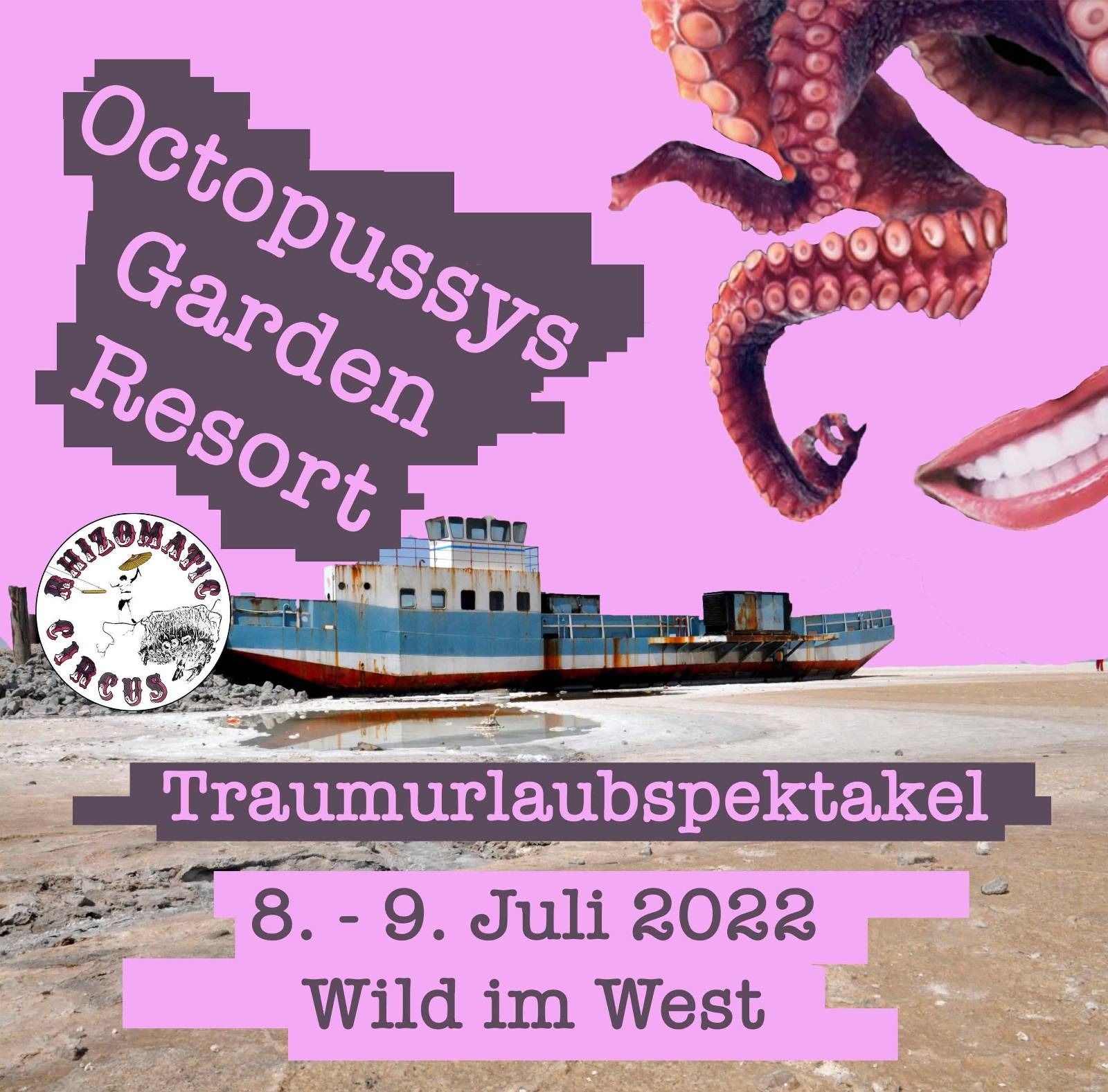 DER ZIRKUS IST IM TRAUM-URLAUBS-RESORT. ≋≋≋≋≋≋≋≋≋≋≋≋≋≋≋≋≋≋≋≋≋≋≋≋≋≋≋≋
≋≋≋≋≋≋≋≋≋≋≋≋≋≋≋≋≋≋≋≋≋≋≋≋≋≋≋≋
08.07.2022 und 09.07.2022
jeweils von 16:00 - 22:00
im @wildimwest // Mariahilfer Straße 166
≋≋≋≋≋≋≋≋≋≋≋≋≋≋≋≋≋≋≋≋≋≋≋≋≋≋≋≋
WHOLE DAY Ticket (16:00 - 22:00)
SUNSHINE Ticket (16:00 - 19:00)
SUNSET Ticket (19:00 - 22:00)
Abendkassa limitiert.
Ausverkauft!
The Octopussy is always right!
GEILER ALS LIGNANO.
SPRITZIGER ALS DIE DONAU.
LUXURIÖSER ALS DER CAMPINGURLAUB AM OTTENSTEINER STAUSEE.
AUFREGENDER ALS DER BOWLDERURLAUB IN KROATIEN.
EROTISCHER ALS DAS SOMMERKINO.
SAFTIGER ALS DAS YOGA RETREAT AUF BALI.
- english version below -
TAUCHEN SIE AB und EIN.
Das Octopussys Garden Resort - versteht sich als temporäre Performance - Retreat - Installation im öffentlichen Raum. Wir laden zu einem genresprengenden Happening, bieten Raum für kollektive Erholung, stoßen gemeinsam bei der Post-apocalyptic Cocktailhour an, stärken unsere Stamina im Konkurenz-Workout. Kommen wir zusammen, konsumieren wir fröhlich und interessiert, aber auch kritisch.
Das Octopussys Garden Resort zelebriert Trash auf höchstem Niveau, planscht im seichten Gewässer und taucht auch mal ab in die Untiefen des kollektiven Unbewussten, dabei sprechen wir unsere treuen Fangemeinde, genauso wie interessierte Passant:innen an.
Und genießen Sie außerdem diese fabelhafte Stichwortsammlung, die unser Resort ganz ausgezeichnet beschreibt:
/////// INTERAKTIV / PERFORMANCE / LIVE-MUSIK / TRASH / GUTE LAUNE / SOUVENIRS / DRINKS / PALMEN / WASSERGYMNASTIK IM INFINITY POOL / AUSGEZEICHNETE SERVICES JEGLICHER ART / SCHWIMMNUDEL / IMMER NOCH GUTE LAUNE / WALGESÄNGE / BADEHOSE / KARAOKE / ANIMATEURIN / SONNENCREME / 4 STERNE
DIVE IN AND DOWN.
The Octopussys Garden Resort sees itself as a temporary performance retreat installation in public space. We invite you to a genre-busting happening, offer space for collective relaxation, toast together at the post-apocalyptic cocktail hour, strengthen our stamina in the competitive workout. Let's come together and consume happily and with interest, but also critically. The Octopussys Garden Resort celebrates trash at the highest level, splashes in shallow water and sometimes dives into the depths of the collective unconscious. We address our loyal fan community as well as interested by-passers.
And also enjoy this fabulous collection of keywords that perfectly describe our resort:
/////// INTERACTIVE / PERFORMANCE / LIVE MUSIC / TRASH / GOOD MOOD / SOUVENIRS / DRINKS / PALM TREES / WATER GYMNASTICS IN THE INFINITY POOL / EXCELLENT SERVICES OF ALL KIND / SWIMMING NOODLE / STILL IN A GOOD MOOD / WHALE SINGING / SWIM SHORTS / KARAOKE / ANIMATOR / SUNCREAM / 4 STARS